Image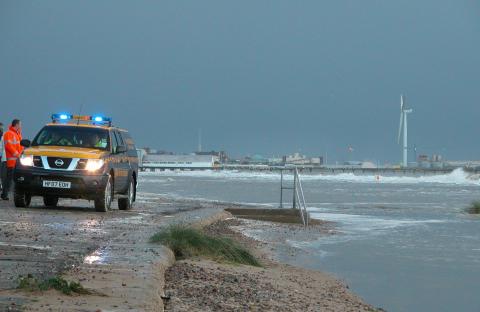 What is already happening?
Overall, the social, economic and environmental consequences of flooding have reduced slightly over time due to improvements in flood defences, advances in flood forecasting and emergency response. 
 
CONFIDENCE LEVEL
HIGH
High evidence, high agreement
Confidence remains 'high' as there is a high level of consensus that (1) extreme water levels are rising, (2) we have managed this sufficiently to contain growth in flood risk, and (3) nonetheless losses in a major event – above defence design standards − are growing.
What could happen in the future?
Without appropriate action, the projected increases in extreme sea levels will significantly increase coastal flood risk. 
 
In England and Wales, the length of coastal defences that are 'highly vulnerable' to failure could increase by about 70% with a 0.5m local sea-level rise. If all these defences did fail, the number of properties affected would rise disproportionately to around 160%. 
 
By the 2080s, expected annual damages from coastal flooding are estimated to more than double from £540m to £1.2 to £1.7b under a high sea-level rise scenario. 
 
CONFIDENCE LEVEL
MEDIUM
Medium evidence, medium agreement
Confidence remains 'medium'. While it is very likely extreme water levels will increase in frequency with mean sea-level rise, there is uncertainty around future wave- and storm surge-climate, and how flood pathways and receptors will change.
Key Challenges and Emerging Issues
Identify barriers to 'managed realignment' and 'no active intervention' in Shoreline Management Plans e.g., historic landfill sites at coast that must be protected.
 
Identifying how to plan our future shoreline on the open coast and along estuaries and deliver practical portfolios of adaptation options for our future shoreline. Plans must be technically feasible, balance costs and benefits, attract appropriate finance, and are socially acceptable.
 
Calculating annual coastal damages and event losses to inform national threat level.
 
Identifying trends and consequent impacts from past storm events and determine likely impacts from future changes in wave and surge climate.