Image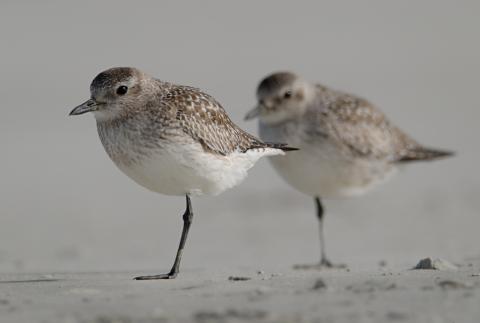 What is already happening?
Evidence continues to show north-easterly shifts in the winter distributions of waterbirds in Europe, consistent with anticipated impacts of a warming climate. 
 
Emerging evidence suggests that for some waders, breeding population declines are linked to warmer, drier summers. 
 
Warming winter temperatures have also been associated with changes in the spring departure of wintering waterbird species to their breeding grounds. 
 
CONFIDENCE LEVEL
MEDIUM
Medium evidence, medium agreement
Changes in the wintering distributions of some wildfowl species, as well as non-breeding numbers and distributions of waders, and migration phenology continue to be reported. Climate change may be affecting reproductive success of over-wintering species, but evidence is limited.
What could happen in the future?
Climate change is projected to have mixed impacts on the breeding and non-breeding numbers and distributions of waterbird species in the UK, with protected areas likely to continue to support internationally important populations and assemblages. 
 
Arctic and subarctic breeding waterbirds are amongst the most vulnerable to climate change, highlighting the need for improved monitoring for these species.
 
CONFIDENCE LEVEL
LOW
Medium evidence, low agreement
For some species, recent projections suggest negative impacts on Arctic breeding grounds may over-ride positive impacts on over-winter survival in the UK. However, confidence is low in projections for individual species, and the varying effects on their breeding and non-breeding distributions.
Key Challenges and Emerging Issues
Considering the potential role of climate related disruptions in Arctic predator-prey dynamics, such as lemming cycles, to reduce breeding success in many species which winter in the UK.
 
Expanding existing monitoring efforts to address current knowledge gaps on temperate non-breeding abundance, productivity, and survival.
 
To better understand potential relationships between anthropogenic pressures and assess their likely interactions with future climate change.
 
Enhancing demographic and environmental monitoring for input to population models that identify drivers of waterbird populations and distributions.
 
Addressing the challenge of monitoring non-breeding seasons, as distributions shift north and east of areas currently well-covered by volunteer-based schemes in Europe.